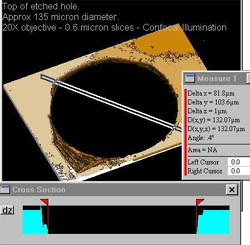 Optical micrscope imaging
Damaged top of etched hole, 135 micron dia., showing etch damage
Imaging and Analysis Software
PROBE 3D renders 3D images from data files generated by

Atomic Force Microscopes
Interferometric Microscopes
Scanning Probe Microscopes
Sequentially focused 2D optical images
PROBE can also import data files from Excel and MathCad and display the data as three-dimensional images.
Regardless of the data source, the 3D image can be dynamically enhanced, analyzed and annotated using PROBE's extensive tools. It can then be filed, exported to documents or shared over networks with other PROBE users.
PROBE runs on Windows NT (4.0), Windows 95/98, Win 2000, and XP operating systems. Its intuitively structured graphic user interface incorporates standard Windows features.
For more information on PROBE's comprehensive capabilities, click here.
To check out sample images created with PROBE 3D, click here.